Sampling bedrock beneath the ice sheet, GHC will identify if and when the glacier retreated in the past, how it recovered, and how it is currently responding to environmental conditions.
---
Investigating sediments deposited in the seas near the glacier, Thwaites Offshore Research (THOR) will reconstruct past changes in environmental conditions and the glacier's response to these, thereby adding context to our projections of future change.
---
Measuring ocean circulation and thinning beneath the floating part of the glacier using state of the art technology such as AUVs and automated land-ice stations, TARSAN will investigate how the ocean and atmosphere are affecting the glacier.
---
---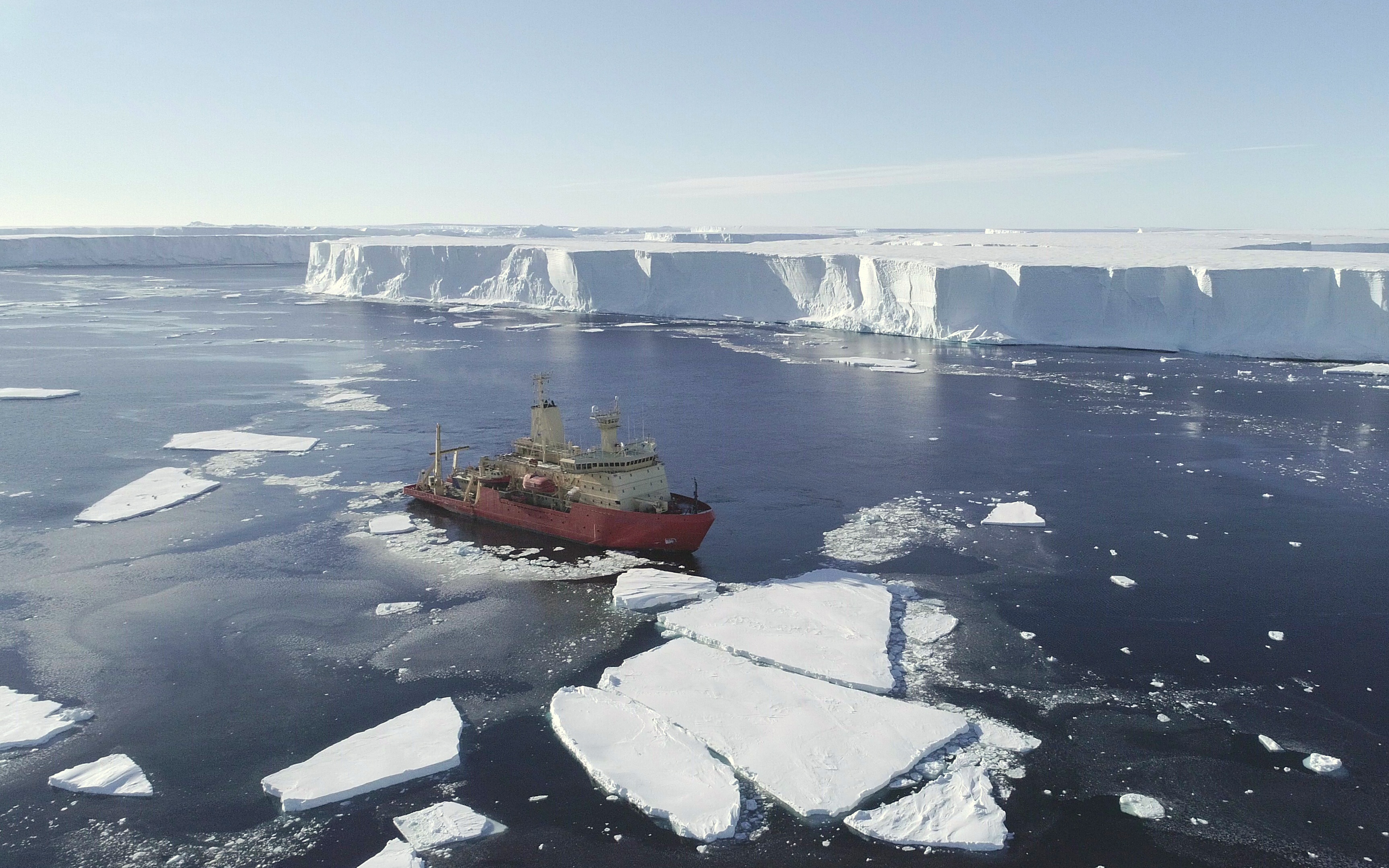 ---
ITGC scientists addressed reporters on Monday, December 13, at the American Geophysical Union meeting, describing the rapid retreat of Thwaites Glacier and the implications that will have on our planet in the coming years. Antarctica's Thwaites Glacier is retreating rapidly as a warming ocean slowly erases its ice from below, leading to faster flow, more fracturing, and a threat of collapse, according to an international team of scientists. The glacier is the size of Florida or Britain and currently contributes four percent of annual global sea level rise.
As part of our Antarctica Festival in December 2021, people around the world sent us questions about Antarctic science, wildlife, careers, and more. Our researchers provided answers to their questions -- visit our Ask a Scientist page to learn about these!
---
Calling all teachers, educators and students of all ages! Learn about the amazing place of Antarctica and Thwaites Glacier through activities online beginning 1 December 2021. Ask your burning questions about Antarctica to our researchers, learn about our science and what it's like to work and live on the icy continent through video content, and build a model of Thwaites Glacier to see the glacier and ice shelf dynamics in action. 
---
This Antarctic field season, the UK's new polar ship RRS Sir David Attenborough, will support the International Thwaites Glacier Collaboration by delivering cargo to the English Coast in Antarctica. With this scheduled, researchers showcased the work of ITGC when the icebreaker visited Greenwich, London, last month (28-30 October) for a special event to support the UK's Presidency of COP26.
Jamin Greenbaum's research focuses on the acquisition and analysis of geophysical and oceanographic data to enable improvements to our understanding of Antarctic land-ice-ocean interaction processes in areas sensitive to rapid inland retreat. Specific interests include the impact of subglacial freshwater discharge on grounding line and ice shelf stability, and geological controls on ice sheet dynamics, especially the impacts of tectonics and geothermal heat flux. Additional interests include the development of low-carbon alternative platforms and approaches, especially those enabling the acquisition of data in typically difficult or inaccessible areas.
Irena Vaňková is a polar scientist working in the area of ice-ocean interactions. In 2018 she finished her PhD under the guidance of David Holland at the Courant Institute of Mathematical Sciences at New York University. After that she spent two years as a Marie-Curie Fellow at the British Antarctic Survey, where she continues to work as a physical oceanographer.