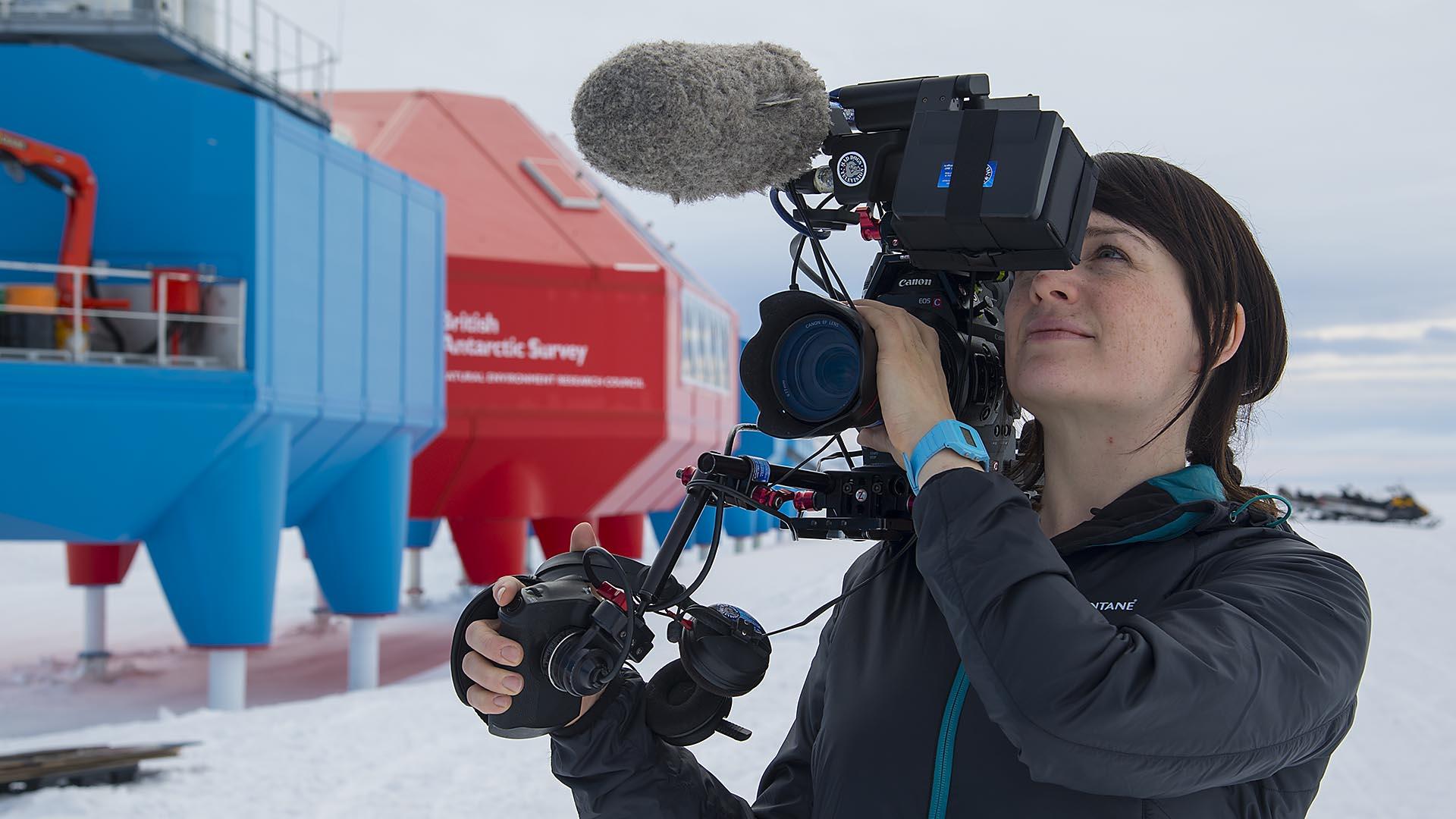 Photo credit: Pete Bucktrout, British Antarctic Survey
As part of our commitment to public engagement and outreach in the research of the ITGC, we welcome journalists to make contact with the Science Coordination Office. In addition, we will consider requests from journalists and broadcasters to visit Thwaites Glacier during summer field seasons. Places are limited, managed jointly with the National Science Foundation, and the selection process is competitive.
UPDATE: Deadline for written submissions for Antarctic visits for the 2019/2020 field season is 21 June 2019. More details available in the NSF announcement. Contact Athena Dinar amdi@bas.ac.uk to discuss further.
Polar media visits – how to apply
Planning Antarctic operations is complex; matching scientific requirements with limited logistics capabilities takes many months. Media bids are considered during the planning process and early submission of proposals is necessary. Some bids may be held over until future field seasons. Applicants should be well respected in their field and have proven experience and skills to deliver the proposed product. Journalists must supply evidence from editors of a firm commitment to publish or broadcast their proposed work from a publication or media outlet, on company letterhead. Requests will be reviewed by Science Coordination Office and NSF in August/September.
Proposals
The proposal should clearly define its target audience. The SCO is interested in both qualitative and quantitative measurement of audiences. Broadcasters should indicate their proposals for repeats or secondary rights. Preference will be given to large, significant UK, US and world audiences. Those interested in producing feature films or general reporting about the Antarctic, travel, or logistics will not receive priority.
Proposals should demonstrate a good knowledge of ITGC's research aims and its operational environment.
Proposals should state the number of people in the team. Operational and logistics commitments restrict the number of journalists that can visit Thwaites glacier.
Innovative suggestions on copyright of unused footage or the exchange of facilities such as duplicating or editing time will be given serious consideration.
How to apply
Interested journalists should contact Athena Dinar as soon as possible to express initial interest. They should then outline their targeted proposal in a short, concise letter, preferably no longer than two pages.
Media visits on board ships
SCO recognises that media engagement is an excellent way to showcase the scientific research that occurs on the ships, which provide a unique and dynamic environment in which to film news or documentary footage and take photographs.