Celebrating International Women's Day on 8 March 2022

---
International Women's Day is celebrated every year on 8 March. This year's theme is #BreaktheBias
Here we highlight four of our amazing women scientists who have been working on the National Science Foundation's icebreaker the Research Vessel Nathaniel B. Palmer, also known as the NBP, this season. Shown in the photo above, Rachel Clark, Patricia Medeiros, Li Ling and Daisy Pickup (from left to right) are conducting research around Thwaites Glacier, and the Dotson and Getz ice shelves in West Antarctica. They return today to Punta Arenas after an epic eight weeks at sea.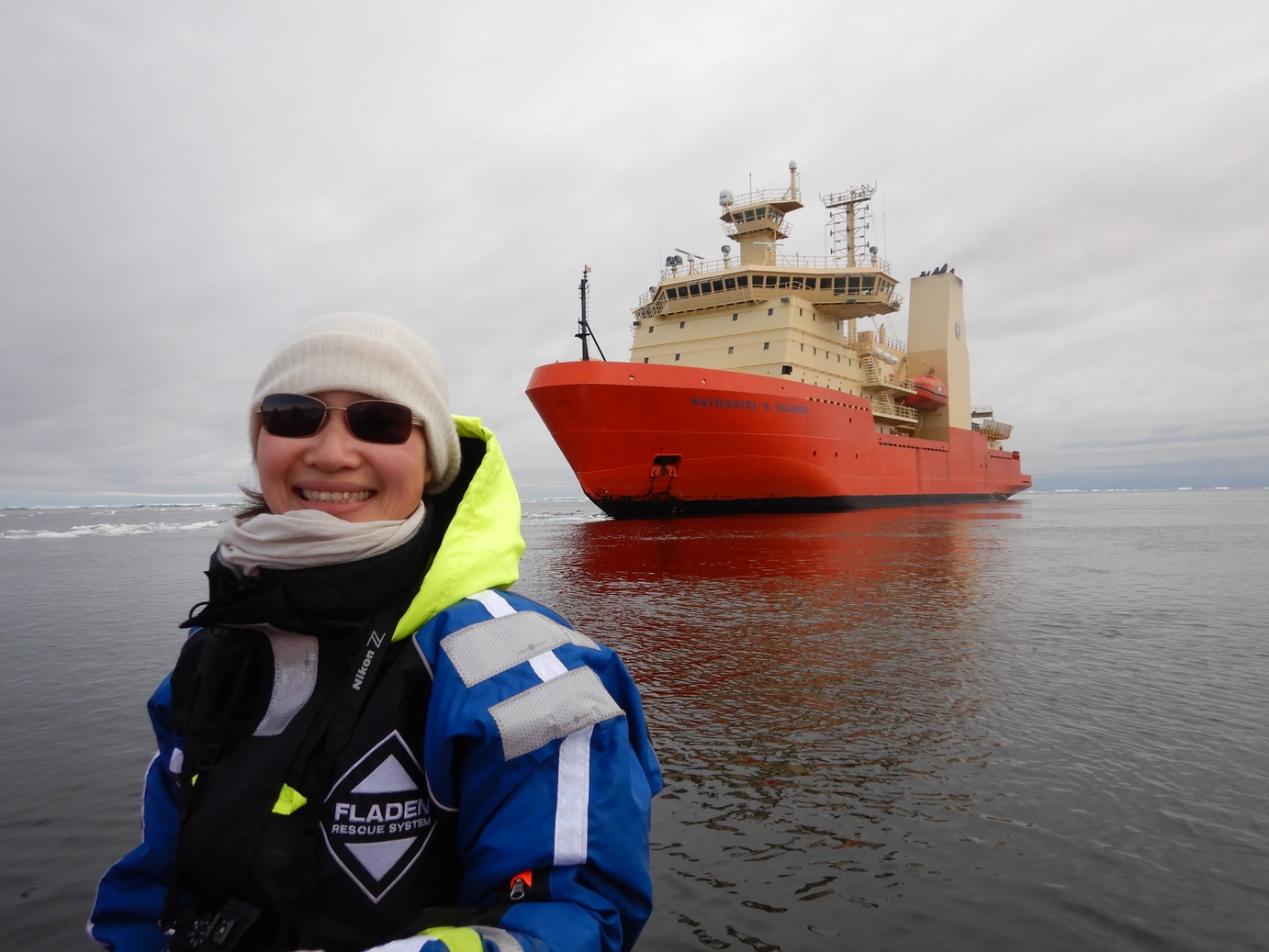 Li Ling is a PhD student at KTH Royal Institute of technology in Sweden. She's part of the ITGC's TARSAN project.
What encouraged you to get into science?
I started my bachelor's degree in 2015. That was the year when AlphaGo, the deep learning model that plays Go, defeated the 18-time world champion Lee Sedol. Deep learning methods started to break into many fields, achieving surprising performances in especially computer vision. The success of artificial neural networks made me interested in studying machine learning.
How did you end up in your role?
I'm a second-year computer science PhD student at KTH Royal Institute of Technology in Sweden. My PhD direction is machine learning for navigation of autonomous underwater vehicles. To be honest, it was all by chance that I ended up in this role. I did a master's degree in machine learning and took a few robotics project courses out of curiosity. I did my master's thesis with John Folkesson (my current supervisor) at KTH on pixel correspondence on sidescan sonar images. He happened to open a PhD position at that time and I applied and got it. The PhD is funded by SMaRC (Swedish Maritime Robotics Center) and Anna Wåhlin, professor in oceanography at Gothenburg University that owns a Hugin autonomous underwater vehicle, is also a part of the SMaRC project. John introduced me to Anna during the SMaRC demo period last June, told her I was interested in going to Antarctica, and I was lucky enough to get a position on the cruise!
Describe a typical day
Being a computer science PhD student, a typical day is really mainly sitting in front of the computer, writing code for various purposes (such as parsing and cleaning data, training the model, evaluating the model), having discussions with colleagues about how to approach problems and reading papers to catch up with the ever-evolving state-of-the-art.
Is there anything you find challenging about being a woman in polar science?
My only experience in polar science is the current cruise, so my answer to this question can be rather uninformed... During the cruise, I did not find gender an issue and everyone seems to treat each other with respect regardless of gender and research experience.
In the autonomous underwater vehicle (AUV) industry in general, on the other hand, female is heavily underrepresented. This heavy gender imbalanced representation can (and probably does) potentially discourage woman from thinking about a career in AUV research. Being potentially the only female in a research team could definitely trigger imposter syndrome and sometimes self-doubt.
Do you think enough is being done to promote women in science?
I think we can only say that "enough" has been done when we no longer ask this particular question. Currently, different fields of science seem to have very different gender distributions. The representation of gender distributions in the society and in movies/books/etc that we see builds an implicit bias in our brains, telling us that it is more typical for males to engage in certain professions and females in certain others. Only when this implicit bias cease to exist can we claim that "enough" has been done. I guess this isn't just about promoting more women to study scientific disciplines, but also about increasing the number of high profile female researchers. For instance, when we only see predominantly male scientists in our textbooks/TV shows/etc, it is hardly surprising that we build up an implicit bias for "scientists are normally males" and thereby need to actively promote women into science.
What is your proudest achievement in your career so far?
Being onboard NBP and helping the Hugin team with mission planning and data processing. In total we ran 14 Hugin missions during the cruise, 12 of which were under ice shelves!
What makes you proud to be a woman in science?
Seeing the programs I've written being used by others is a truly special feeling!
What advice would you give to someone at the start of their career?
Don't hesitate to seize the opportunity when it presents itself, even if you fear that you are not experienced or knowledgeable enough for it!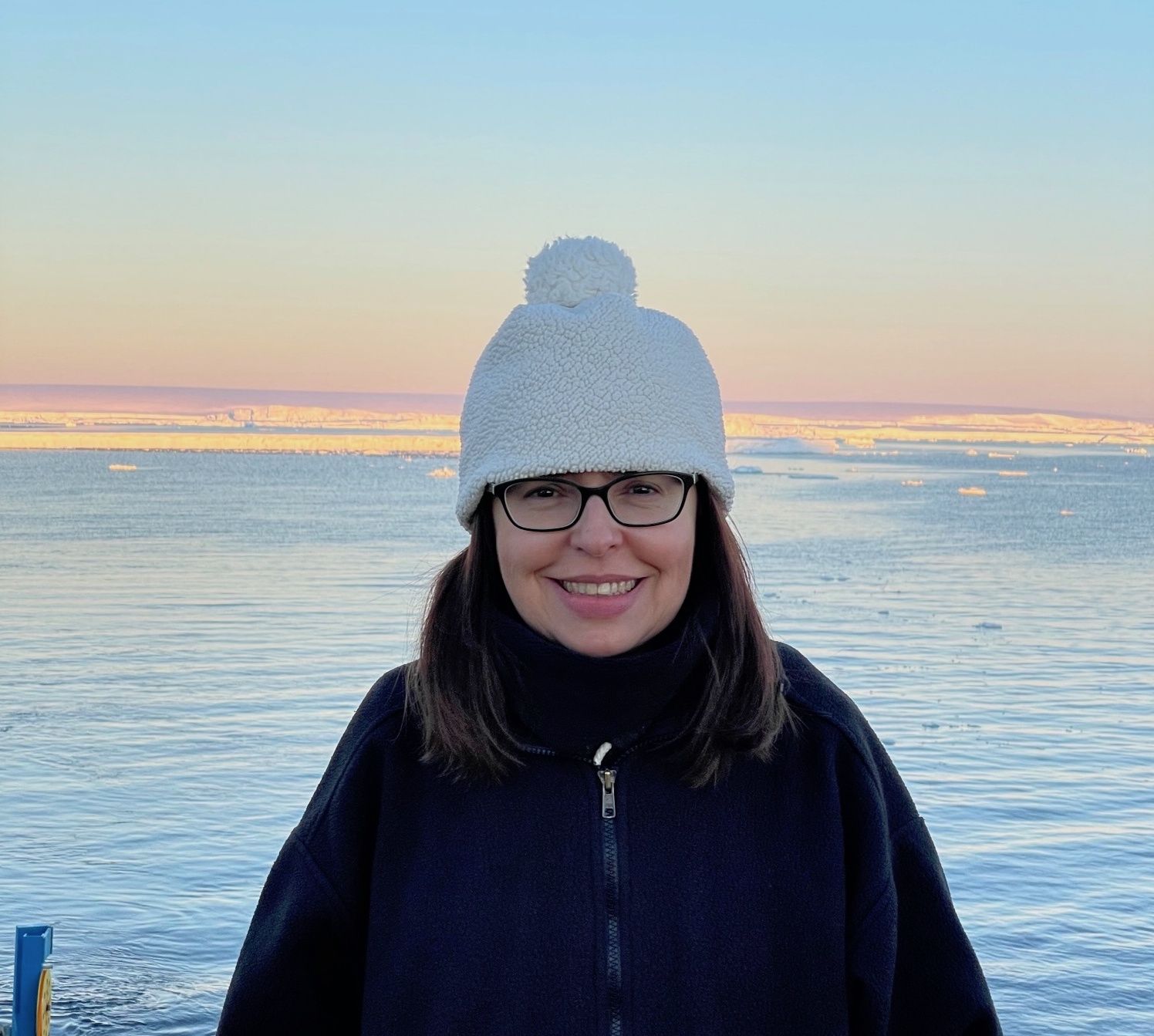 Patricia Medeiros is an Associate Professor in Aquatic Organic Geochemistry at the Department of Marine Sciences, University of Georgia
What encouraged you to get into science?
I had a fantastic chemistry teacher when I was in high school, who made me fall in love with the discipline. I was sure that I wanted to work in that field, so I got a B.S. in Chemistry at the University of São Paulo in Brazil. At that point I still thought that I wanted to work in industry, so I got a position to work as a trainee in an industrial quality control lab. That lasted a single day! It really opened my eyes to how much I enjoyed the research experience I had as an undergraduate student, and I was pretty sure academia was what I wanted.
How did you end up in your role?
After I got my undergraduate degree, I decided to pursue a M.S. in Marine Chemistry, when I had the chance to work with organic pollutants such as oil inputs. It fitted perfectly with my goal of using organic chemistry to study the marine environment. I then moved to the U.S. and got a Ph.D. from Oregon State University, followed by a postdoc in Chemical Oceanography at Rutgers University. I started looking for faculty jobs, which led me to the University of Georgia where I am now an Associate Professor in Aquatic Organic Geochemistry.
Describe a typical day
I generally try to reserve my mornings to writing and reading scientific articles and proposals. That is not always possible, sometimes meetings or answering e-mails get in the way, but that is when I feel I am the most productive. In the afternoon, I often spend some time working in the lab or discussing research with my students. That is also when I teach my lectures. If there is enough time, I also try to meet with my colleagues to catch up on their research. After work, I enjoy going on long walks in my neighborhood. And I always make a stop at my favorite coffee shop.
Is there anything you find challenging about being a woman in polar science?
The Thwaites cruise was my first cruise to a polar area, and I had a great experience. Antarctica is very cold even during summer, so having adequate clothes that fit well is very important. The clothes provided to us are really good, but even the smallest ones were really big for me. And heavy! I always had the impression that I was walking like a robot...and I wasn't the only one. That may seem like a small detail, but after two months it takes a toll. We need to keep in mind that more and more women are engaging in polar research and some of them are small. We need to have clothes that are adequate for us too!
Do you think enough is being done to promote women in science?
Things have improved quite a bit since I was an undergraduate student, but unfortunately we still have a long way to go. I know way more male scientists involved in polar science than female colleagues. It was a nice surprise to meet with so many female graduate students during the Thwaites cruise. But to attract and keep these talented and enthusiastic young female scientists in their respective polar fields, we do need to have more representation, promotion, and opportunities for women, especially to become faculty members. This is important!
What is your proudest achievement in your career so far?
The proudest moments of my career are undoubtedly related to students. I was very proud when my first graduate student defended her thesis. That was a very especial day. I am also very happy when I can connect with students in the classroom. More than once students have organized a beach cleanup event after taking one of my classes, which made me very proud. I've also had a non-science major student who told me in the first day of class that she was 'not good at science'. It turns out that all she needed was a bit of encouragement, she thrived in the course. At the end of the semester, she switched majors to environmental sciences! I feel that my research and teaching are contributing to help these bright young students who want to study and protect our oceans, and that makes me really happy and proud.
What makes you proud to be a woman in science?
Getting where I am now was not easy, it required a lot of sacrifices. I've learned a lot about how to face challenges, and how to go around them when they are too big to climb. Now I can guide and help other female scientists starting their careers by sharing my experiences and showing to female students that it is possible and rewarding to have a career in science!
What advice would you give to someone at the start of their career?
Find your passion! I was so lucky to find my passion early in my career. I love my job, but I have to admit that it is demanding and sometimes it can be very challenging. If you work on something that you are passionate about, it makes it so much easier to work hard while also taking care of your well-being. I was once told that being successful in academia would depend on my creativity, and to be creative you need to be happy. And it is difficult to be happy with your work if you are not doing something that you are passionate about.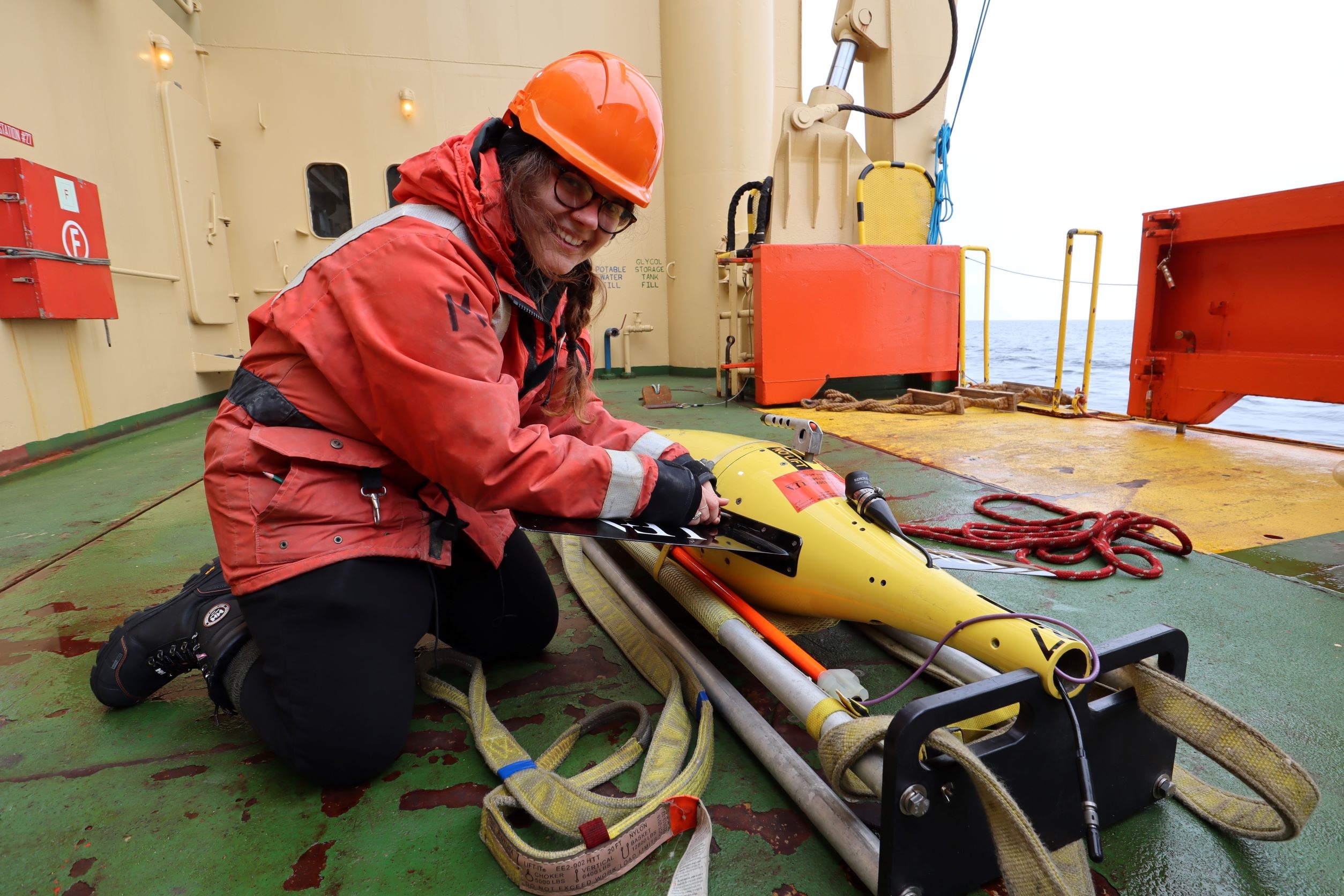 Daisy Pickup is a PhD student at University of East Anglia and part of the ITGC TARSAN project.
What encouraged you to get into science?
I enjoyed science all the way through school, and upon learning how climate change was affecting our planet I became keen on choosing a study that meant I could contribute to understanding and tackling these issues. I really enjoyed chemistry and the ocean had always fascinated me, so when I learnt that climate change was particularly affecting the global oceans, I decided to study oceanography.
How did you end up in your role?
I completed BSc and MRes degrees at the University of Southampton in Ocean Science, before beginning a PhD at the University of East Anglia. Throughout my degrees I undertook projects that focussed on the biogeochemical aspects of the global ocean, so I did not begin to study polar regions until I started my PhD! Describe a typical day
I am at the beginning of my PhD study and a lot of my time revolves around data processing. I look at data collected by sensors on Seagliders in the Amundsen Sea, Antarctica. I process and analyse the data, looking for patterns and interesting things we may not have seen before! I really enjoy looking at data and working out the puzzle explaining why certain things may be happening.
Is there anything you find challenging about being a woman in polar science?
As an early career scientist, I feel really lucky that a lot of my interactions so far have been with other women polar scientists. I always feel listened to and have never felt as though I have been treated differently because I am a woman. The only problem I encountered was the issued clothing I was given when going to study in Antarctica, unfortunately a lot of the sizing was based upon men's sizes! After conversations with other female ocean scientists further in their careers, I have learnt that there are still issues being faced by female oceanographers climbing the career ladder. There are still struggles with how they are perceived by their peers because they are women when they strive for senior roles.
What is your proudest achievement in your career so far?
Being a valued member of the TARSAN team aboard the RV Nathaniel B Palmer for the 2022 ITGC research cruise. Undertaking work that I am extremely passionate about in the Antarctic region was never something I envisioned doing, and I feel extremely privileged to have been a part of it.
Do you think enough is being done to promote women in science?
I think my generation can definitely see the changes in the industry compared to scientists of the decades before us. It is obvious that there is a movement for change, but potentially it takes some time to reach all areas. Oceanography is just one subsection of the greater scientific community and I believe there is always progress to be made in promoting it to women in younger generations.
What makes you proud to be a woman in science?
I get to be part of community of amazing women who are consistently pushing the boundaries of discovery. I am excited to follow a career path that will contribute to the understanding of climate change in the Antarctic region. I feel privileged that I may be able to encourage other people to also pursue this avenue, particularly other women.
What advice would you give to someone at the start of their career?
Don't doubt yourself! Push yourself to go one step further than you think you can. Just because you are early career scientist don't think you aren't valuable!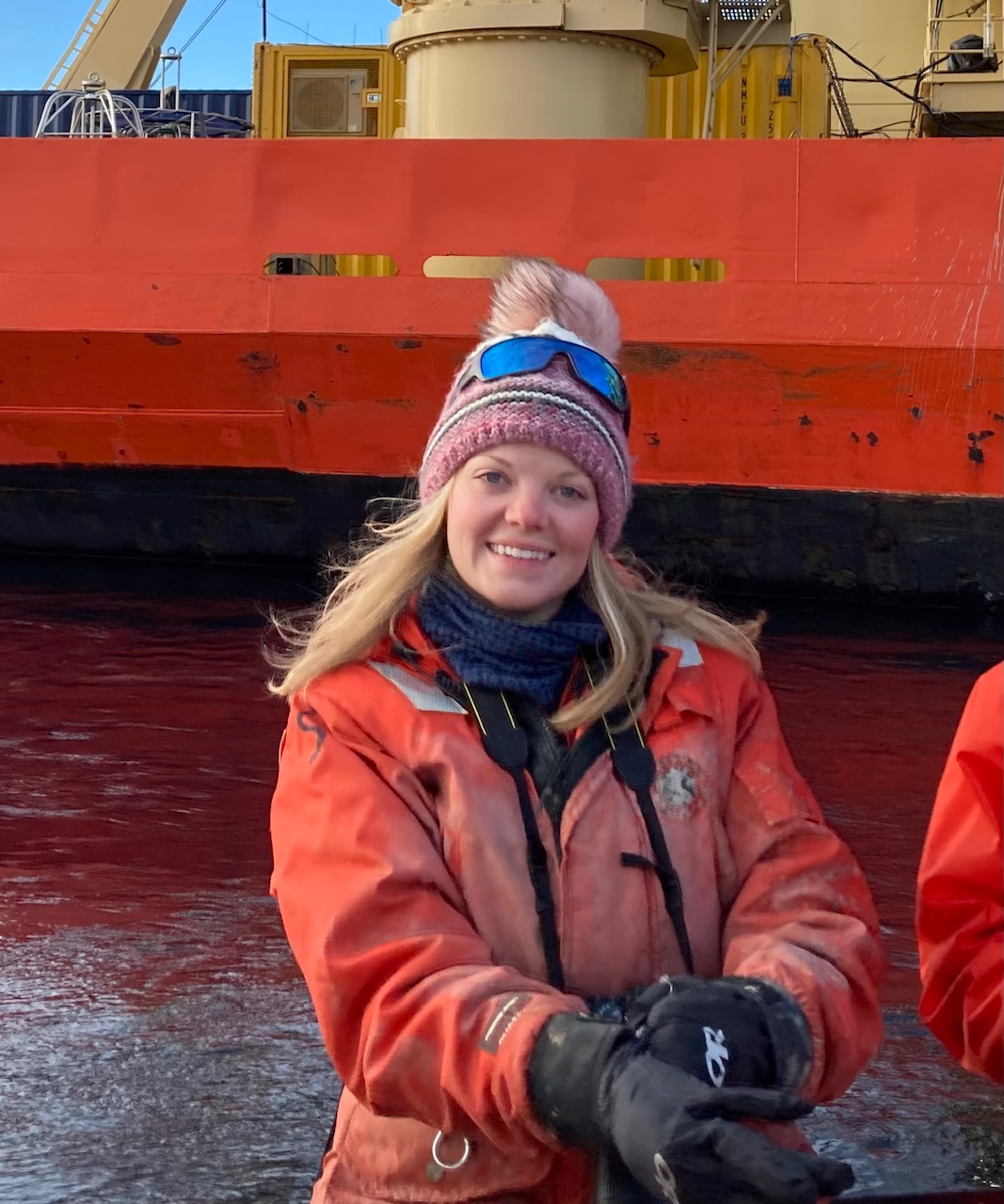 Rachel Clark is a PhD student at the University of Houston and works on ITGC's THOR project.
What encouraged you to get into science?
I grew up hiking in the Rocky Mountains, so I became interested in the environment around me, especially for things like rocks and fossils. My family also encouraged me to pursue science courses and go on school-based camping trips.
How did you end up in your role?
I am a PhD candidate of geology, and I focus mostly on marine and glacial geology. After finishing my undergraduate degree in geology from Bryn Mawr College, I knew I wanted to go on a research vessel and study marine geology or geophysics. I was connected to my PhD advisor, Dr. Julia Wellner at the University of Houston, through another professor I knew from my undergraduate experience. I applied to work with her because I found the possibility for Antarctic fieldwork and glacial marine research very exciting.
Describe a typical day
Usually, I am working in the sedimentology lab at the University of Houston. I divide my time between running samples with our different lab equipment and analyzing and interpreting the data on my computer. If I am teaching during the semester, I will also spend some time during the day instructing undergraduates in paleobiology or physical geology.
Is there anything you find challenging about being a woman in polar science?
Prior to becoming a polar scientist, I have had difficulties working in the field, especially when I was one of the few women working on a large team. However, I feel lucky with my experiences as a woman in polar science. I don't feel I have had many challenges in that regard. In some ways, I think having so many colleagues and peers that are women around me helps to minimize some of the challenges I have faced in my previous earth science research and fieldwork.
Do you think enough is being done to promote women in science?
I think there is always room to strive for more women in science. Especially for my field of earth science, I think it's important to encourage women to go on field trips and participate in fieldwork early on in their undergraduate careers. I think those experiences could make it easier for more women to participate in the type of fieldwork I do for example.
What is your proudest achievement in your career so far?
I am proud to have participated in three Antarctic research cruises during my PhD program. My colleagues and peers in the THOR project have taught me so much about collecting data at sea and how to collaborate across disciplines and institutions. As I am finishing up my third cruise with this project, I feel much more comfortable in my role at sea compared to my first cruise in 2019. I appreciate these experiences for personal and professional growth.
What makes you proud to be a woman in science?
I am proud to be part of a trend of more and more women working in Antarctic research, especially alongside other women. The THOR project I am a part of includes women at all stages of an academic career, from graduate students to faculty members. I feel lucky to work with and learn from these women.
What advice would you give to someone at the start of their career? Or to your younger self?
I would share the advice I got from my friends and family to say yes to research opportunities that spontaneously arise. The smaller science opportunities I took in my undergraduate program led to bigger opportunities as I got to know other scientists in my field of earth science. I wasn't always sure what I wanted to do, but this strategy has led me to exciting fieldwork and a broad set of research experiences.